GHOST Pump V2 - Stimulant Free Pre Workout

GHOST Pump delivers full disclosure - the GHOST fam is obsessed with nitric oxide products and we're not playing around when we say GHOST Pump is the greatest...ever.
Ghost previously said it has simply put more of what works into its promising new Ghost Pump, and as you can see in its facts panel directly below, that is indeed the case. The primary goal of the product is still to improve and enhance muscle pumps during your workout, and it has remained stimulant-free, so it can be stacked with stimulant pre-workouts like the brand's own Ghost Legend.
Some of the biggest highlights in the exciting new Ghost Pump V2 are a solid 6g of pure citrulline, 50% more of what was in the original, and 3g of NO3-T arginine nitrate, 500mg more than V2's predecessor. You get the same amounts of taurine and pine bark at 2g and 200mg, respectively, 390mg of PureWay-C branded vitamin C, and for better absorption, 50mg of AstraGin.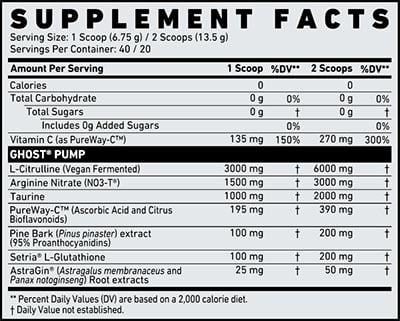 There is one last ingredient in Ghost Pump V2 that is not something you see at all that often in the pre-workout category, and that is Setria branded glutathione at 200mg per serving. The reason behind that inclusion is, the premium feature has proven to provide longer-lasting levels of nitric oxide when used in combination with citrulline, which, as mentioned, Pump V2 has a solid 6g of.
GHOST Full Disclosure Label
All GHOST products feature a 100% transparent label that fully discloses the dose of each active ingredient.
Zero proprietary blends mean you know what you're getting in each and every scoop.
L-Citrulline (Vegan Fermented) - 6g
Citrulline is one of the best pump ingredients on the market. Most brands elect to stick Citrulline in a proprietary blend, underdose the compound or use 'Citrulline Malate,' which today is no more than a blend of L-Citrulline and Malic Acid, often in an undisclosed ratio.
In fact, the 6 grams of L-Citrulline per scoop in GHOST Pump is equivalent to the L-Citrulline content of 10 grams of Citrulline Malate!
Pure L-Citrulline may be more expensive, but provides better pumps without the potential for stomach discomfort caused by the additional acid...and since it's Vegan Fermented, GHOST® Pump is Vegan-Friendly as well!

Arginine Nitrate (NO3-T) - 3g
In our humble opinion, the patented NO3-T® Arginine Nitrate is one of the greatest pump ingredients of all time.
Rarely used and never at the 3g dose, NO3-T® bonded L-arginine and nitrate attacks nitric oxide from a different angle than the rest of the GHOST Pump formula, delivering a complete, all-out pump experience unlike anything else we've tested or tried. 

Pinus Pinaster
Pine Bark in pump products is nothing new, but the Pinus Pinaster genus specifically has some serious human clinical data behind it on everything from vasodilation, performance, endurance, and the list goes on.
It compliments and completes the already epic GHOST® Pump formula. Look it up. Or ask Siri. Or Alexa. Trust.

Astragin
Astragin works to help improve your body's ability to absorb key amino acids, proteins, and glucose... in other words, Astragin ensures you're getting the maximum benefit from every scoop of GHOST Pump.
Directions: Mix each one serving of GHOST Pump with 240-300ml of water or beverage of choice. Consume about 15-30 mins pre-training.

Allergen Information: n/a.
Warnings: Not suitable for children and pregnant women. With sweetener(s). Check with a qualified health professional before using this product if you are under the age of 18, pregnant or nursing a baby or if you have any known or suspected medical condition(s) and or are taking any prescription or OTC medication(s). Store in a cool, dry place. Not to be used as a substitute for a varied diet and healthy lifestyle. Store this product in a cool dry place, away from children. Do not exceed suggested use. For allergens see ingredients in Bold.
Please Note: Nutritional facts and ingredients may vary slightly between flavours of GHOST Pump.
Payment Methods
Your Payment Information Is Processed Securely. We Do Not Store Credit Card Details Nor Have Access To Your Credit Card Information.
---
Security

Frequently Bought Together